The Daz Dub Doo 2 was to take place over the weekend of 21st to 23rd June 2013. Dazdub had once again kindly volunteered to host an informal gathering at his place for Brazi Bay owners from the Forum. You can see our Blog of what happened at last year's Doo here: Daz Dub Doo and we also have a Photo Montage here: Photos For this year's event DazDub and Scooby got their heads together again and made all the arrangements.
The Daz Dub Doo 2 would be an expanded event compared to last year - it would be spread over three days and be bigger and better than the original event. There would even be improved facilities - Daz had added a shower for this year! The proposed programme of events is listed below: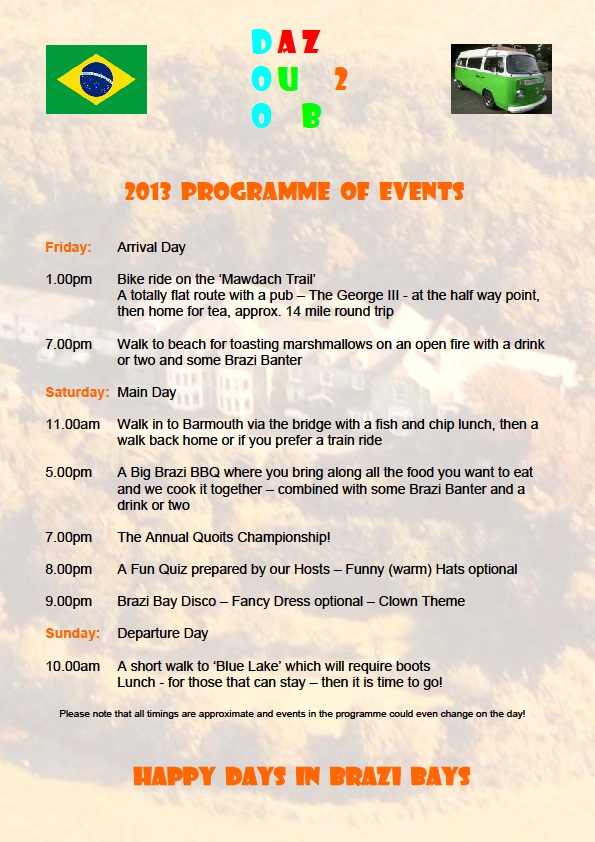 As you can see, an ambitious agenda for a second year - this then is the Tale of the Daz Dub Doo 2.
We had taken the day off work on the Friday so we could arrive just before lunch time. This would be the second trip for Scooby into a foreign land (the first was at last year's Daz Dub Doo). So whilst we were excited, we were nervous too, remembering the clutch cable incident last year. We left early and w
ere making good time, with the music cranked up to '11' - Scooby was enjoying the run - we made it without any problems this time.
We were the first Brazi Bay to get there and after quickly parking up, handbrake on, we had arrived! After meeting and greeting our hosts we would wait for one or two of the others to arrive before embarking upon the bike ride to the George III pub. This was going to be great, clean air, good views and photo opportunities, with a drink and a chat at the end of the outward journey.
Well, we were not even 5 minutes from our Kombi when disaster struck. No it was not the weather, that was fine, it was Sharon listening to Penny to look at the view and then going off the road and through the bushes on her bike down a shear drop of 4 or 5 feet!
It looked really serious, but fortunately it was not. Very quickly it became apparent that apart from some scratches and the odd broken branch there was aamazingly no harm done. No photos of the incident exist, only the slow motion memory of it happening in front of us and being helpless in stopping it from happening. Still enough about that, let's move on to what the camera did capture.
(We all laugh about it now, but it could have been dangerous - next year there will be a different route!)
So, yesterday we had the bike ride, a short trip to the beach from which we quickly returned as it was a little windy, followed by marsh mallows, food & drink and a lot of Brazi chat deep in to the night.
Scooby had prepared a welcome pack for everyone as there would be more people this year - see photo below. Each Kombi therefore received a bag containing the progtramme for the weekend, a pad & pencil, two Brazilian stickers, some round 'mood' stickers, a glow in the dark whistle, a key ring, a pen, a 'noise maker' (there were differnt types) and last but not least a post card of the home of our hosts.
It was Saturday, the main full day of the Daz Dub Doo 2. It would pretty much follow the programme for the day, with everyone bringing somthing from their individual locations from around the country - ie. food and drink. Scooby lives near Reading in Berkshire and Reading has been known for the three B's - Beer, Bulbs and Biscuits - see this link what this means:
3B's - any way, we brought along some local beer and biscuits, the bulbs were in the head lights (hehehehe).
Hold on let's not get ahead of ourselves. Let's start in the morning: After breakfast and some mid morning Brazi Bay chat we were off to walk over the Barmouth Bridge into the town. First we drove the short distance to the railway station and parked before proceeding to 'walk the bridge'. Here is the montage of the day.
We have for you below a short video of kiteman and his 'fiery balls' from the Saturday night - doo not try this at home kids - thought to be the only moving picture show containing this flaming event and he's not clowning around!
After the full day yesterday, the programme for Sunday was a little more sedate, a walk to the Blue Lake with plenty of photo opportunities along the way. Here is what the camera captured.
Thanks to everyone who attended we had a really FAB weekend.
So that was the Tale of the Daz Dub Doo 2 - hope you enjoyed it.
Great Hospitality - Great Company - Great Brazi Bays.
Enjoyed it all guys - Many Thanks and here's to the Daz Dub Doo 3
That's All Volks!